This post comes as a continuation of the Flavours of Northern Italy – Seconda Parte. 
As a refresher for those who may or may not have read part two, my mum and I attended the LCBO's Flavours of Northern Italy cooking class, hosted by Terroni. It was a fabulous evening filled with all things Italian – wine, olive oil, pasta and dialogue between passionate foodies.
During the class, we were provided with cooking instructions for each dish:
Casunzei Ampezzani (which is Agnolotti with Beets and Ricotta in Poppy Seed, Butter, Sage and Parmigiano Sauce)
Baccala alla Vicentina (which is Salted Cod from Vicenza)
Torta Fondente (which is a dark chocolate tort)
I thought the Casunzei Ampezzani was the best dish of the night, so I decided to roll up my sleeves and get my butt into the kitchen to make it!
Disclaimer: After writing this blog post, my stomach was growling like a mf so don't say I didn't warn you. 
——–
The recipe starts by roasting up two large beets and an onion in olive oil, salt and pepper. Toss them into the oven at 425 degrees for 40 minutes, shifting their positions around at the 20 minute mark.
While the beets are roasting, it's time to prep the dough. I whipped out our standing mixer and added two cups of all-purpose flour, two eggs, and two tbsp of milk. Mix the ingredients on high for about six minutes (until it becomes a ball) and then knead it by hand for about 10 minutes. Ensure that it doesn't stick to your hands by adding extra flour, if necessary. Once the dough is nice and round, set it into a bowl and let rest for about 30 minutes.
As the dough rests, the beets and onions should be roasted and ready to rock. Remove them from the oven, and let cool for about five minutes.
Scoop the roasted veg into a food processor and purée until the chunks are gone. I may have switched them out of my tiny processor and just used the hand held blender because it worked more efficiently.
After the beets are puréed, I added them to a warm pan with browned butter and sage and cooked down until there was very little moisture.
Once that cooled down, I added half a cup of ricotta and quarter cup of goat cheese. The goat cheese wasn't part of the original recipe, but there's just something about beets and goat cheese that work so well together.
Fast forward (like the magic of live television) and the filling and dough will look similar to this…
Set aside the purée and flour your work service, it's time to roll! Unfortunately, I didn't take any photos of the rolling process. Probably because it was the most labour intensive and we were focused on getting the most pasta out of it.
We rolled and rolled until there was enough dough to make three 6 inch x 14 inch flats. Once the flats are rolled out, I spooned a tbsp or so if the purée onto the dough, similar to what you see below.
Once the purée is added, we cut individual flats out and folded the pasta over the filling. There are a few different ways of doing this, but we didn't have the proper tools or patience. Using water (or egg wash) along the edges will help the pasta stick together, press a fork around the edges to seal it.
Remember, it's not always about presentation, especially during the trial run.
Heat up a pan with some olive oil and butter. On another burner, get a pot of water boiling for the pasta. Once it started bubbling, drop a few pieces in until they float to the surface (probably two-three minutes) and transfer them right into the warm, buttery pan.
Toss the pasta around until it's coated in the buttery blanket. You'll know they're ready when you just can't take it anymore and you need to eat one.
Throw those bad boys on a plate because it's almost game time…
The recipe calls for garnishing with poppy seeds but we didn't have any. Instead, I finished it off with a bit more butter and olive oil…and of course a little (jk, a lot of) parmesan!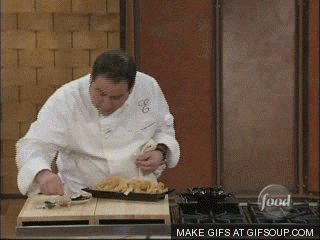 Dinner is served, enjoy!
I hope you enjoyed my culinary adventure. For more information about the LCBO's cooking & tasting demonstrations and to register for a class, click here.